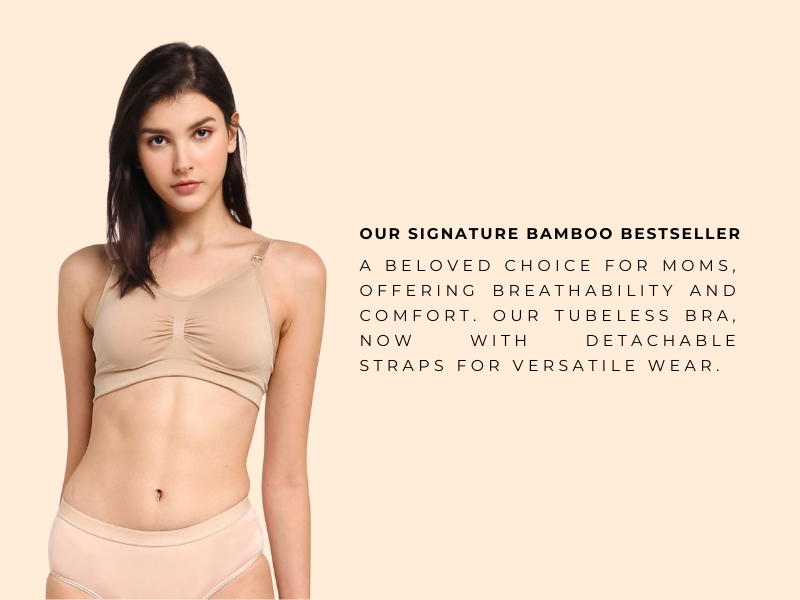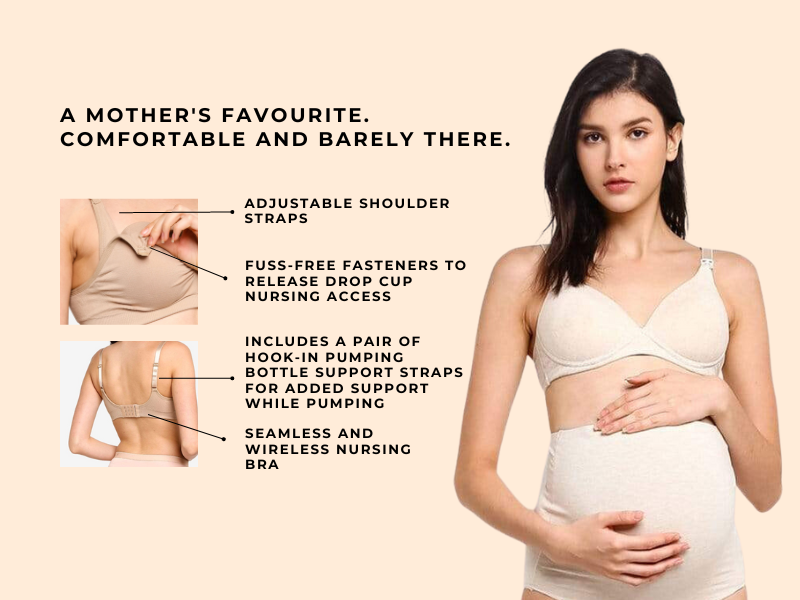 ★★★★★

Material is soft and smooth. Delivery took about 3 to 5 days.

Winnie Ng

Coretta Nursing Bamboo Cotton Camisole
★★★★★

Repeated purchase! Great quality!

Nurulain

Marissa Seamless Bra
★★★★★

Good quality, material softer and more comfortable that I expected!

Adaline Woo

Maia Microfibre Bra
★★★★★

Fits well and is very comfy! 21 weeks pregnant

Sally Tan

Madalene Nursing Camisole
★★★★★

received item in good condition. Material is soft and comfy. the bra comes with an extension so can extend if the size is slightly tight.

annatasia

Madeline 3-in-1 Seamless Hands-free Pumping Bra
Intimates Wear: Comfort and Support for Expecting Mothers
Welcome to our Intimates Wear collection, where comfort, style, and functionality converge to embrace the unique needs of expecting mothers. Our signature bamboo bestsellers are designed with you in mind, offering breathability and comfort like no other. Let's delve into the exceptional features of our intimates:
Our seamless and wireless nursing bras are designed to provide ultimate comfort during your motherhood journey. Say goodbye to uncomfortable wires and irritating seams, as our tubeless bras offer a seamless wonder. We understand the importance of full coverage and ample support, ensuring you feel at ease with our bigger cup support and elastic underbust bands. Enjoy unrestricted freedom of movement with boneless sides, and adjust your comfort with soft, removable padding. Experience irritation-free days with smooth finishing and achieve the perfect fit with adjustable straps. For added convenience, our bras come with hook-in pumping bottle support straps and fuss-free fasteners, ensuring a hassle-free feeding experience. As your body changes throughout pregnancy, our bras provide the perfect fit with additional extension hooks.
Why Bamboo Fabric?
Our intimates are crafted from natural bamboo fabric, offering numerous advantages for expectant mothers. Bamboo fabric is renowned for its inherent softness, smooth texture, and exceptional breathability. This makes it the ideal choice for pregnant women seeking ultimate comfort.
Moreover, bamboo fabric is exceptionally stretchy and absorbent. It can seamlessly adapt to the changes your body undergoes during pregnancy, offering flexibility and support.
Choose Comfort, Choose Our Bamboo Intimates Wear
Embrace the comfort and support you deserve with our bamboo intimates wear. Whether you're an expecting mother or looking for the perfect gift, our collection is designed to meet your unique needs. Explore our range and discover unparalleled comfort today.
maternity bras, nursing bras, seamless nursing bras, bamboo fabric, comfort for expecting mothers, full coverage bras, pregnancy changes, breathability, adjustable straps, pregnancy support, stretchy fabric, soft and smooth texture